Festival of Learning
Students have an opportunity to share key moments from their learning journey in our Festival of Learning, held in May of first year. Each student is matched to a key skill and asked to outline how they activated and developed this key skill across three moments or highlights from across their first year.
The Festival not only gives students an opportunity to reflect on and discuss their learning with parents, teachers and fellow students but also provides for a broader form of assessment. Features of Quality are developed to help guide and support students.
Two themes dominated across displays at our Festival of Learning in May 2019 – the ethical curriculum and how technology was used to support learning and enhance the development of key skills; Apps, Teams, OneNote, and O365 allow for greater creativity and collaboration between students and between students and teachers.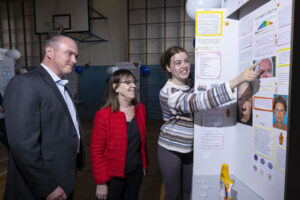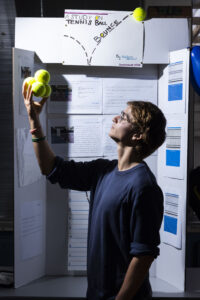 Phenomenon-Based Learning (PBL) or Problem-Based Learning
Phenomenon-Based Learning (PBL) or Problem-Based Learning involves students working in small teams on real-life problems with a focus on technology, creativity and communication.
PBL allows students to own the learning process; observing, posing questions, researching and forging connections across subject areas within specified parameters.
PBL encourages the pursuit of knowledge whilst emphasising other important skills, such as communication, collaboration, creativity, critical thinking, sustainability, and international understanding.